Articles
More articles listed at the bottom of the page and forthcoming; however, for now, have a piece of this . . .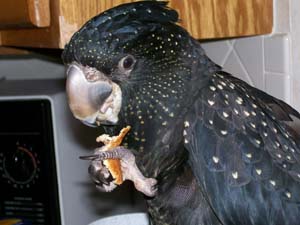 Zoe's Favorite Sweet Potato French Toast - feeds a flock
1 large ruby yam or sweet potato, fully mashed
18 medium eggs, or 14 large eggs
1/2 cup apple juice
1/2 cup cranberry juice
1/2 cup water
1/2 tsp. cinnamon
1/4 tsp. nutmeg
1 - 1.5 loaves multi-grain bread
small amount of butter or margarine (or non-stick pan spray)
Mix all ingredients, except the margarine or butter, in a large bowl, with either a whisk or electric mixer, to form a batter
Dip the slices of bread in the batter and fry both sides till golden brown on an evenly heated (medium heat) griddle pan, onto which you have spread a small amount of the butter, margarine or pan spray. I prefer butter, which is more predictable on a griddle pan. Any excess batter may be used to make sweet potato pancakes, also well received by birds.
Serve to birds cut into eights or sixteenths of a slice, depending on the size of the birds, two points per bird. Leftovers may be frozen in whole slices and defrosted and heated in the microwave.
Try it on your family, too. Just about guaranteed to please! My hawkhead chortles in her dish when I serve this, and my macaw says "Mmmmmmmm" when I put some in his dish. From canaries to cockatoos, all the birds eat every scrap. The larger birds eat it a la carte; however, the canaries seem to like it with a side dish of parboiled broccoli or raw dandelion greens, which are never in short supply in my garden during the spring and early summer.
______________________
The recipe is up for grabs by anyone who likes good food for their birds, or for themselves. Madeleine Franco retains copy rights to all articles. Bird Club newsletter editors and other nonprofit organizations may request permission to reprint articles by contacting the author via email at madfranco@aol.com. Permission is not to be assumed, but will not be unreasonably withheld; provided, however, the author is given a byline and a reference is made to this web site, www.premiumpinecones.net.