Testimonials
We can talk about ourselves, but perhaps you'd like to know what others are saying about us . . .
Chantelle loves her pine cones!
Photo of Chantelle courtesy of Georgeann S.
"We received the pine cones yesterday, and OMGOSH they look good enough to eat . . . my little girls are thrilled and couldn't wait to dive in. Thank you sooooo much from my feathered babies."
Kat C.
"I have purchased both the pine cones & a no-pluck collar and can not begin to say enough about the quality of these items. The pine cones are truly premium and bird-ready.
"The only thing that breaks my heart more than a mutilating bird has always been having to put one of those terrible, barbaric plastic collars on them . . . . I see your collar as gentle and non-invasive and intend to use it when working also with feather pickers.

"The collar is absolutely wonderful and was very well accepted by my friend's female Eleanora, "Baby". She is a mutilator, who has spent years in the hard plastic collars. The no-pluck leather collar is soft yet durable. Madeleine, thank you, thank you, thank you! : )"
"I was SO impressed with your company and the pine cones. First, every cone was in perfect condition; they were packed so well, there were no damaged cones. Second, they were all much bigger than I had anticipated. Third, to know that they are bird-safe and I can give our kids a great treat is a HUGE relief. We have 22 birds in 14 cages and there will be enough for each cage to have at least two treats each. Definitely ordering from you again, no doubt!
"Our lovebird started on hers [cone treat] late yesterday and it was already half demolished this morning when we got up--she's fierce! With your cones and my peanut butter sauce and their seeds, making treats myself is so much cheaper (about $2.00 each versus $7.00-9.00 each plus shipping) for the ones alread made, Five stars, two thumbs up, best service, shipping, etc. Thanks you so much for providing bird-safe cones at such an economical price

!"
Jane V.
"They ALL just love these pine cones. I didn't understand what you meant when you said they give them a haircut but it is true that is the best way to describe what they do to the pine cone . . . I think my birds like them better than their wood pieces."
"Certainly the best quality pine cones I have ever purchased. What a wonderful play toy they make.
Many, many thanks . . ."
Just look at Apollo now!
"Apollo was one of the saddest looking rescues I received into my care. With good diet,
Madeleine's collar, and the Refeathering Kit, he recovered. He is now in perfect feather and just the sweetest little parrot and a wonderful addition to his new family."
Susan K.,
Rehoming Volunteer
"
Chantelle (U2) loves these Pine Cones! She gets one or two a day and likes to sit while chewing one up and watching outside or watching the other birds during her self-appointed quiet time.
"I also have a Congo African Grey that hates toys in the cage; she will play with toys only outside her cage. However, she will flutter and ask for a "woon" [her made-up word for pine cone] to be put in her cage . . .

"I highly reccomend these pine cones for all birds. They are clean and fresh and crunchy, making them a different type of chew from wood or plastic for our birds to enjoy. The pine cones are a must-have supply here for Em [CAG] and Chantelle."
"I have just gotten a female Goffins cockatoo, came to me as a plucker/mutilator. I had gone to the bird store and they gave me the no-pluck leather collar, and this baby just loves it. This is this bird's last stop. The last owner was at the end of their wits and was going to have her put down . . . . Poor girl has had these plastic hard collars on, and now she is sleeping in peace with your collar."

This is my Congo African Grey Frankie; at 6 months he began plucking and stopped short of self-mutilation. As you can see from the pictures, he looks like a grocery-store chicken. Any feather he could reach he would pull out. He was fully vetted twice, with nothing wrong. My vet was tempted to put him on a "prozac" regimen, and that scared me to death. I tried so many products including Avi Rain and King's Pluck No More, and at times there seemed to be some improvement but it never lasted. Now he's 4, and after 6 months of using your kit he's fully refeathered and looks gorgeous. THANK YOU!!!
He even has all of his red tail feathers. I haven't seen more than one for so long . . . . And he's much happier, friendlier, and gives kisses instead of snips. He does seem like a different bird and much more confident
.
---
"I wanted to give you an update on Smoothie. He has grown most of his feathers back and he is almost back to his old self (i.e. talking, screaming, playing, etc.)! I think the pine cones really helped! He absolutely loves those things! We even take the pines cones when we board him."
Smoothie BEFORE
Smoothie AFTER
Michelle H.
---
"Your collars are great! He [her eclectus] is doing much better
and can really move in it."
Aimee C.
---
"This is my Goffin, Baby. He barbers and picks his feathers. He has had this leather collar on for three weeks now to help break the cycle and has not tried to destroy it; he also did well during his first supervised preening session with the collar removed.The collar is soft and flexible and doesn't ruin his skin or cause any irritation. Baby can maneuver around his cage without any issues due to the flexibility of the collar, which is not so easy with other collars that can be stiff or hard, or even the fleece collars that a bird can ingest. This is by far the safest collar for my bird."
---
Deanne F.
---
GUS - BEFORE GUS - AFTER (< 6 MONTHS LATER)
"I must admit I was skeptical at first, but the Refeathering Kit worked amazingly well on Gus."
Andrew P.


---
"I just ordered some more pine cones for not only my birds this time, but a friend's daughter wants some for her wedding. She's going to use them as table decorations - she agrees with me, that you have the BEST pine cones there are!"

Shawna A.
---
"I recently purchased two bird cones [collars] for my white-bellied caique Oliver. We love your cones! I must say we were pleasantly surprised with the modification that was made. I had explained in the comments section how Oliver was able to push the cone against his bars & bend the leather part down past the foam underneath. This was giving him the ability to reach his left leg & continue to pluck. The modification you made to his cones was AWESOME. Bringing the foam down farther to prevent him from doing this again was fantastic . . . . I can't thank you enough for doing this. In the past I have told other bird people about your site . . . . now I am happy to spread the word even more. Again, Oliver's "parronts" thank you ever so much."
Ann & Sam N.
---
April 2011 - "My hahns macaw (Neeko) is still doing great! So far he has grown two of his long primary feathers, his upper back has new feathers. All of his chewed feathers are much longer and he has 5-6 new shoots poking through his skin on his chest! It seems like he is a new bird!"
September 2011 - Just look at Neeko now!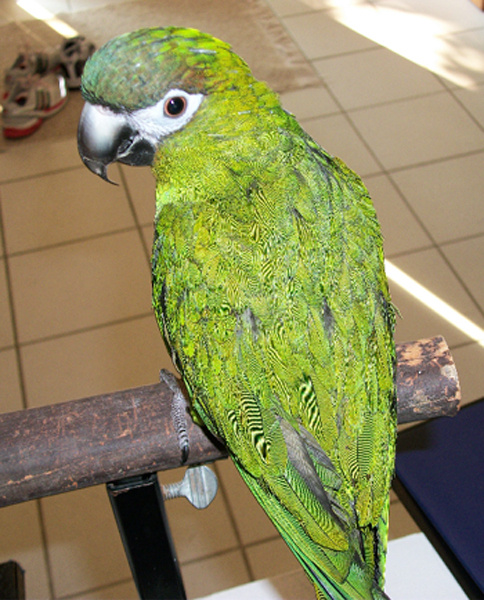 "Here he is! Neeko is fully feathered . . . He's full of personality now and is just awesome! It's great to see him now compared to the pictures I sent you a few months ago. He looks amazing!"
Josh B.
As of August 2011, Neeko wasn't quite sure he wanted feathers under his wings, but obviously he has reconsidered!
Josh B.
---
"I just wanted to let you know that I love your pinecones and the pine nuts ended up working for my Caiques beautifully!! Thank you! Thanks for your great customer service and wonderful products."
P. Cross
---
"Here is a photo of my sweet Annabelle using one of your awesome pinecones. Annabelle rarely plays with things, so this is HUGE for her. Pinecones rule!"


Adrianne M.
---
"The birds have been doing really well on this food. Zoey's feathers couldn't be prettier then they are. They eat some fruit and table food (whatever I am eating), but for the most part it is that seed mix that they are all thriving on.

"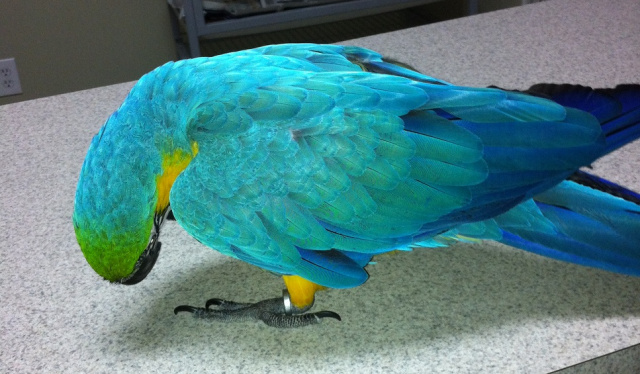 Carol S.
---
"Your measuring of the actual cages I first asked about convinced my husband and I that you took our questions seriously. Accuracy is of utmost importance to us . . . Thanks for taking your time and being exact."
Kim M.
---
"Thanks for your help and for a great product!"
Tom R.
---
"I just thought that I owe you a progress report on the feather picking of CHICO. He has basically stopped the picking, although there is still a couple of small patches around his neck. His feathers are in the down-like stage, and I haven't seen the fruits of his picking for about four weeks now. You treatment really works well!"
Udo
---
"I'm attaching some photos I just took of Echo. The refeathering regimen is totally working with the plucking problem."


Pam L.
---
"The spring/summer seed mix arrived today. I put some in his bowl and he chowed down. I have never seen a better mix of seed and fruit. So glad that I found you. Am looking forward to the anti- feather plucking kit. We are out of options and do not want it to progress any further. Thank you for being there for us who have no other options."
Jane B.
---
"Every good bird deserves feather."TM